Neon Wall Signs
Whether you want to order Personalized Neon Signs for your lobby area and entrance or as a statement piece in your bedroom, we cover all options. Our team of designers has years of experience in this field and has the training and natural creativity to help out with the process.
We prioritize our client's satisfaction above everything; the sign we provide would tell a story to everyone who sees it. For business owners to connect with their customers and give them a sense of the vibe they can expect from people showcasing their inner personality through their individualized room décor, the sign would provide an additional flair to it.
Discuss the design with us - do you want the business logo, bar logo or the company's tagline as the primary display? We would focus on creating the best custom neon wall signs for you.
How are Getcustomneonsign light signs made?
Getcustomneonsign is handcrafted by our qualified professional team. With low-energy LED tubes and the latest technology, we ensure you will receive a high-quality, long-lasting neon sign. Each custom neon sign is made from sturdy acrylic backing instead of breakable glass. The luminous glow comes from eco-friendly LED lights inside instead of gas/mercury.
What is LED Neon Flex light?
LED Neon Flex is one of the most versatile commercial lighting products on the market today. LED lighting products are smaller and lighter than old neon lighting. Moreover, this new light source reduces power consumption while delivering significantly greater lighting.
LED Neon Vs Glass Neon, what's the difference between traditional glass neon and LED neon?
1. LED neon lights are brighter than glass neon light fixtures. They provide uniform, dot-free soft light that is dispersed evenly across your space. 
2. LED neon lights are available in a number of colors like red, yellow, blue, green, neutral white, cool white, and warm white colors.
3. LED Neon Flex is flexible and easy to cut, bend, and shape; unlike glass neon, which requires experience to produce, shape, and install.
4. LED Neon Flex is safe for the environment and the public as it contains no toxic materials like mercury, which is found in glass neon.
5. LED Neon Flex has only normal AC voltage considerations and is safer when turning on/off the light.
6. Our LED Neon signs are available with clear, colored, or UV-printed acrylic backgrounds.
How much does a Custom Neon sign cost?
Neon Sign cost varies depending on sign size and design complexity. Our custom-made neon signs are very affordable with our factory price that others can not beat.
Why are custom neon signs from getcustomneonsigns cheaper?
Getcustomneonsign is a neon sign manufacturer which has branches in China, the United States, and the UK. We can custom neon signs for you at factory price.
Is getcustomneonsigns light signs safe?
Yes, our neon signs are handmade with LED flex neon light, do not contain gas or mercury, work with 12 Volt DC Power Supplies Adapters, no risk when the light turns on. There is no glass in our neon signs. The LED Neon will not overheat and is more energy-efficient than traditional glass neon signs. 
Note: If you want to make the next two or three lines, please email us at Support@getcustomneonsigns.com.
if you choose the multi-color option, that means you can change color with a remote control
We can help tailor the perfect sign for your special occasion. Email our team at Support@getcustomneonsigns.com and we'll get back to you within 12 hours!
NOTE: If you want the sign to be 2 lines, not 1, please email us at support@getcustomneonsigns.com or leave a note during checkout.
Recommended Sizes
Refer to the general size/style guide below to help with your order. Please note, that this is only a rough guide and if you need more help please contact our team at Support@getcustomneonsigns.com who will be happy to help! 

Note: If you want to make the next two or three lines, please email us at Support@getcustomneonsigns.com, we will send you the price and mockup within 12-24 hours.
GENERAL SIZE GUIDE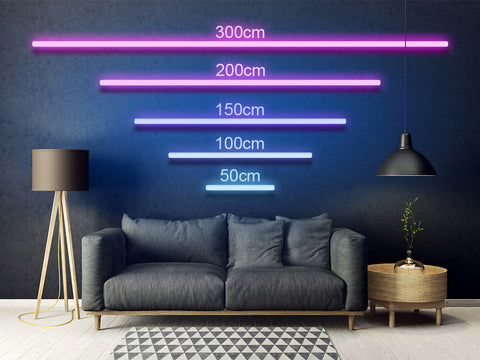 Your payment information is processed securely. We do not store credit card details nor have access to your credit card information.
---
SECURITY