Large Neon Letters
Deliver in 7-9 days with expedited shipping! Lightning-fast!
We'll Turn Any Word Or Phrase Into A Beautiful Neon Art Piece like song lyrics, a kid's name, cloud or even the shape of your dog! We are helping make art accessible with easy-to-design, stylish neon lights. Now there's no excuse not to turn up the brightness! Let our neon signs lit up your event, like wedding, and birthday!

💡Eco Friendly
We create our Neon signs using the latest LED technology and are powered using only a 12V power adaptor. They are lightweight, generate no heat, and don't make any noise! Winning!
✍Hand made to order
We make Neons to order. Whether it's your custom creation or one of our pre-designed items, each piece is handmade by a specialist Neon artisan, especially for you.
🔩Easy to Install
They go up like a picture frame and plug in like a lamp! If you can hang a picture frame, you can install a neon! Plus, a 12V power adapter means no electrician is required to install it. 

✈ Free Shipping
We ship Neons to all the corners of the globe. From our hands to yours – it doesn't matter where you are, we'll get it to you using the most reliable couriers available!
💵Price Match
We believe we have the best value Neons in the world – and 1000s of our awesome clients agree. Have a quote for a cheaper price? Let us know. We'll match it and give you a virtual high-five!
🎖Extended Warranty
Don't stress, we're here for you. We provide a 12-month manufacturer warranty, double the industry standard, and faulty neon signs used indoors
We can help tailor the perfect sign for your special occasion. Email our team at Support@getcustomneonsigns.com and we'll get back to you within 12 hours!
NOTE: If you want the sign to be 2 lines, not 1, please email us at support@getcustomneonsigns.com or leave a note during checkout.
Recommended Sizes
Refer to the general size/style guide below to help with your order. Please note, that this is only a rough guide and if you need more help please contact our team at Support@getcustomneonsigns.com who will be happy to help! 

GENERAL SIZE GUIDE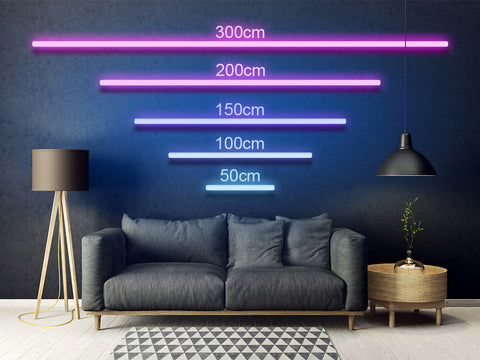 Large neon letters are a great way to make your home more visible from the street. They can be placed on the front porch, in the front yard, or on top of a roof. In this article, we will discuss how to choose the right letter size and placement for your home.
—
Large neon letters are a great way to make your home more attractive and noticeable.
Large neon letters are an excellent way to make your home more attractive and noticeable. They are also a good opportunity to show off your creativity
Your payment information is processed securely. We do not store credit card details nor have access to your credit card information.
---
SECURITY