Custom Neon Name Signs
Need help in adding something extra to your business or event that would enhance the experience more? Or do you want to make your home shine bright through the night or gift someone something special? Choose our custom neon signs; we have experience creating types of personalized lighting fixtures for different occasions and sizes. Let us know what you want, and we prepare a stunning result that shall light up your world perfectly.
Custom Neon Name Signs We Made 
Best Price: We can beat the price of any like-for-like quote from our competitors.
Great Quality: 1-year manufacturer warranty is available for faulty items (indoor use only). All our products are quality-tested before shipment.
Durable: getcustomneonsigns use high-quality material and the latest neon flex technology, which is stronger and lighter than glass neon.
Safe: getcustomneonsigns are made of kid-safe LED flex neon tube. Our neon tube is a long lifespan and remains cold, silent, and eco-friendly. They are also safer because they do not contain gas or mercury
✈ Free Shipping
We ship Neons to all the corners of the globe. From our hands to yours – it doesn't matter where you are, we'll get it to you using the most reliable couriers available!
💵Price Match
We believe we have the best value Neons in the world – and 1000s of our awesome clients agree. Have a quote for a cheaper price? Let us know. We'll match it and give you a virtual high-five!
🎖Extended Warranty
Don't stress, we're here for you. We provide a 12-month manufacturer warranty, double the industry standard, faulty neon signs used indoors
Note: If you want to make the next two or three lines, please email us at Support@getcustomneonsigns.com.
if you choose the multi-color option, that means you can change color with a remote control
We can help tailor the perfect sign for your special occasion. Email our team at Support@getcustomneonsigns.com and we'll get back to you within 12 hours!
NOTE: If you want the sign to be 2 lines, not 1, please email us at support@getcustomneonsigns.com or leave a note during checkout.
Recommended Sizes
Refer to the general size/style guide below to help with your order. Please note, that this is only a rough guide and if you need more help please contact our team at Support@getcustomneonsigns.com who will be happy to help! 

Note: If you want to make the next two or three lines, please email us at Support@getcustomneonsigns.com, we will send you the price and mockup within 12-24 hours.
GENERAL SIZE GUIDE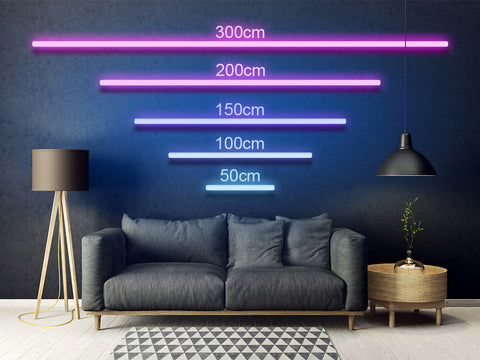 Your payment information is processed securely. We do not store credit card details nor have access to your credit card information.
---
SECURITY