Deliver in 7-9 days! Lightning-fast!
Start creating your own sign today. Design your sign in minutes!  

All custom neon signs are handcrafted in LED Neon and are mounted on a clear acrylic backing.  Your sign will be created exactly as you type in your phrase and view it in your cart. 
Custom neon sign size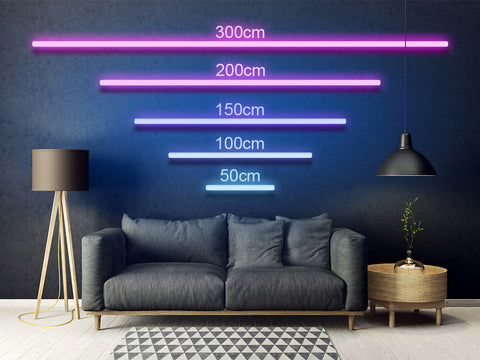 (All sizes in the displayed image are approximate. The actual size of your sign will be determined by font height and sign length is scaled according to your font choice and the number of letters.)
Custom Neon Signs Frequently Asked Questions
✈How long does custom neon signs creation take?
• Standard shipping – 2 to 3 weeks from order date ( 5-7 business days of production + 7-9 business days of shipping)
• Expedited shipping – 1-2 weeks from order date (2-3 business days of production + 3-5 business days of shipping)
❤Can I have my sign in a different size? How big can my custom neon sign be?
Absolutely! Choose any size you want. Just send us a message via our contact page. The smallest letters we could do are approximately three inches tall, so the total size of your sign depends largely on the font and length of the text. Use our contact page to send a message about your needs. There is no maximum size limit.
👐Do you offer different fonts? Can a sign include a logo or other graphic?
Yes. We replicate almost any font you like, including handwriting, signature, business logos, and images. Please contact us to share your unique vision and get a custom quote.
👍What materials are the signs made with?
All custom neon signs are made of sturdy PVC, and bright, efficient LED lights, which are child-safe and will not shatter like glass. LED lights use 90% less energy than other light sources. These eco-friendly signs do not use toxic gases or heat up to dangerous levels.
❌Will the sign buzz or make other noise?
Absolutely not. All of our signs are silent, which makes them perfect additions to any room in the house.
👍Is hanging up the LED neon sign easy?
Yes. Every sign we create comes with a clear contour cut acrylic backing which is laser cut to the same shape hiding beneath the sign. This includes pre-drilled holes that make hanging/mounting it on a wall or other surface simple. Please contact us if you would like the backing in a certain shape or color.
🔩What do I need to hang the sign?
If you would like to wall mount your new neon sign, you'll need our wall mounting kit that comes with the sign. You can also choose the following items to hang your sign:
• Command strips
• Rope (Securely knotting recommended)
• Fishing wire (Heavy-duty wire recommended with a fisherman knot/s)
💡What is the LED neon tube attached to?

All custom neon signs come with a transparent laser-cut acrylic backboard, which is contoured or in any desired shape. The backings could be a metallic, solid color, clear, or UV printed with an image.
We can help tailor the perfect sign for your special occasion. Email our team at Support@getcustomneonsigns.com and we'll get back to you within 12 hours!
Please refer to the recent express prescription (Affected by Covid-19, there will be some delay on the delivery)

Your payment information is processed securely. We do not store credit card details nor have access to your credit card information.
---
SECURITY